Even the most experienced professionals can struggle with writing a good quality CV that reflects their abilities and achievements. Many people don't think about the quality of their resumes until they spot a role they'd like to apply for, which can lead to a last-minute scramble to clear the virtual cobwebs and get the document ready before the application deadline.
If you really want to get your CV working for you – and keep it job search ready – there are some key steps you can take that will ensure your resume always lands at the top of the pile.
Below, we've put together our top advice on how to write a CV that will stand out from the competition and give you the best chance of landing that all-important interview.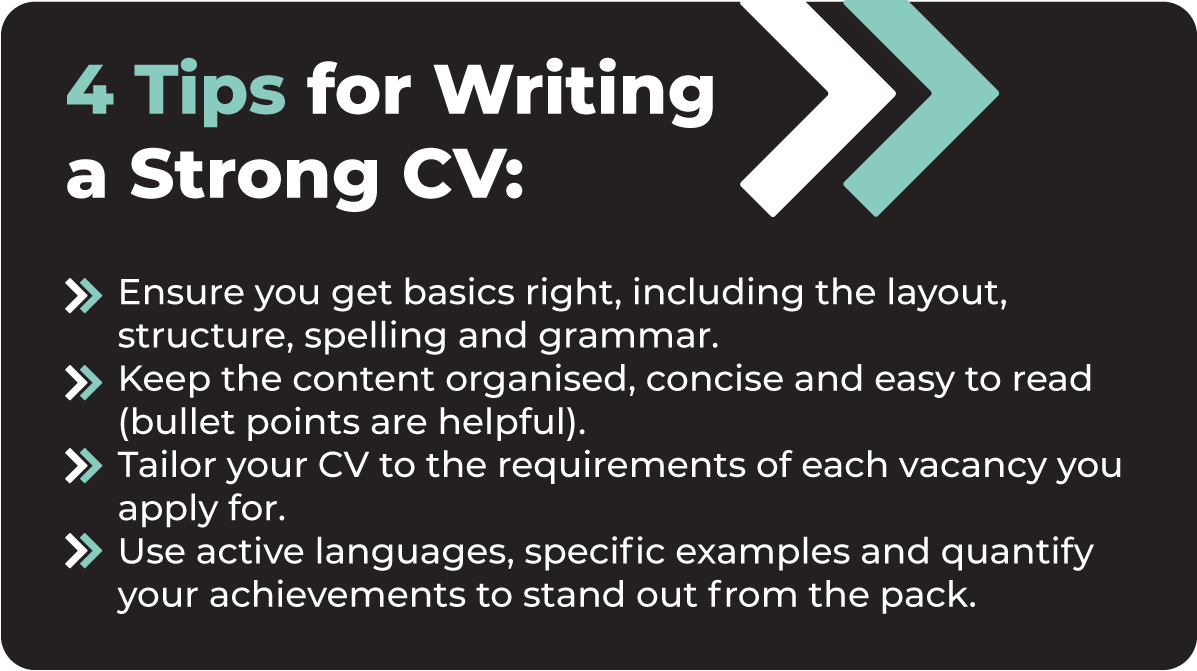 CV Tip #1: Get the Basics Right
Making your resume easy to read and keeping it up to date are the two foundational steps you can take to create a CV that stands out. Recruiters and hiring managers reviewing CVs are often dealing with dozens, if not hundreds, of job applications at any given time.
With that in mind, it's best to opt for a clear structure with logical headings and subheadings for elements such as job titles, employer names and responsibilities, so anyone reading your CV won't have to hunt through it to find this information.
We also recommend you avoid using layouts with overly 'artistic' fonts, graphics and other design elements. These types of CVs might appear superficially impressive but are less software-readable or accessible. For recruiters and hiring managers, the content of a CV is more important than a fancy border on the page.
When you've finished getting the formatting and content right, don't forget to proofread your resume! Spelling and grammar mistakes can make even the most accomplished professional appear like an amateur. Running the document through spellcheck and getting a second set of eyes (such as a mentor, friend or your recruiter) to look over it will ensure you don't get tripped up by these all-too-common errors.
Lastly, ensure that you update your resume regularly as various job changes come up, so you don't have to try and remember them months or even years later. These include any new roles, responsibilities and projects you take on, along with any recent training you've completed.
CV Tip #2: Keep it Organised and Concise
When building your CV, it might be tempting to list every one of your professional achievements since high school or university, but how interesting will that be to a prospective employer? Probably much less than you think!
Instead, it's best to highlight only your most relevant work experience for the role you're applying for. An example of a good CV outlining career history and accomplishments, education and credentials typically fits within a maximum of 2-3 pages.
When outlining your work experience, use reverse chronological order to highlight your most recent roles (also, don't forget to include the month and the year you started in each position).
The aim is to be clear, concise and easy to read – don't shy away from using bullet points where possible.
CV Tip #3: Tailor Your Resume to the Role
One of the most common mistakes we see people make when applying for jobs is not tailoring their resume to the job application. Each role you will apply for will have some variations within the job description and you will need to specifically address how you meet these specific requirements.
To tailor your CV for a specific role, you can demonstrate how you meet the job criteria whilst using the same skills and keywords found in the job description. Be careful not to simply regurgitate the job description in your resume, however. To show how you meet the criteria, you can strategically highlight certain achievements to prove that you have the skills asked for in the job ad.
CV Tip #4: Quantify Your Achievements and Avoid Cliches
The rule of thumb for listing achievements on your CV is to describe outcomes, not just the responsibilities of your previous roles. Using concrete examples to illustrate your skills and quantify your accomplishments will bring them to life for anyone reading your resume.
For example, compare these two sentences and consider which one is more likely to impress a potential employer:
"I managed a team of 12 people and was responsible for managing costs."or
"I managed a team of 12 people on the XYZ fitout and made XX process improvements that helped deliver the project on time and within budget."
You can never go wrong with using clear, specific and active language to describe what you actually did in a role. One way to do this is to write "I managed", "I created", or "I developed" a team or initiative. Opt for phrases such as "I helped to increase sales by 12%", instead of "the company increased sales by 12% during this period".
Finally, you should resist the temptation to use cliché expressions and buzzwords – use that precious space to highlight your achievements instead. Just about every job applicant will say they're "motivated", a "team player", "results-oriented", or have a "proven track record". If you've clearly outlined your achievements, these will speak for themselves.
Summary
Taking care of the basics – including spelling, structure, using clear language and highlighting relevant job achievements – will put you in good stead for writing a winning CV. Eliminating overused buzzwords and getting specific with your accomplishments can elevate your CV from good to great.
Ready to take your job search to the next level? As a leading Australian recruitment agency, we are here to help you put your best foot forward. From resume advice and help with interview preparation to negotiating a job offer, you can rest assured we will be there to guide you throughout the process of finding your perfect role. Get in touch with your local office in Sydney, Melbourne, Brisbane, Perth or Adelaide today to find out more.