Whether you're a new graduate or a seasoned professional, at some point in your nursing career you may consider working as a contractor. Agency nursing is not only very rewarding, but it also gives nurses the flexibility to control their work/life balance and the freedom to focus on the aspects of their work that they love, without having to deal with workplace issues and politics. It's also a great way to gain experience within a wide range of healthcare environments, allowing you to meet new people, strengthen your skills and get exposure to different aspects of nursing.
Of course, no two nursing agencies are the same so choosing the right one for you is important not only for your career as a contract nurse but for your own happiness! To help you assess your options and make the right call, here's our advice on how to choose the best nursing agency to work for.
Qualities of a Top Nursing Agency
So, what should you look for when choosing a nursing agency? Many factors come into play when selecting which nursing agency is right for you, depending on your needs and circumstances. However, we recommend considering the following things to help you make your mind up:
Do they offer placements to suit your lifestyle and preferences?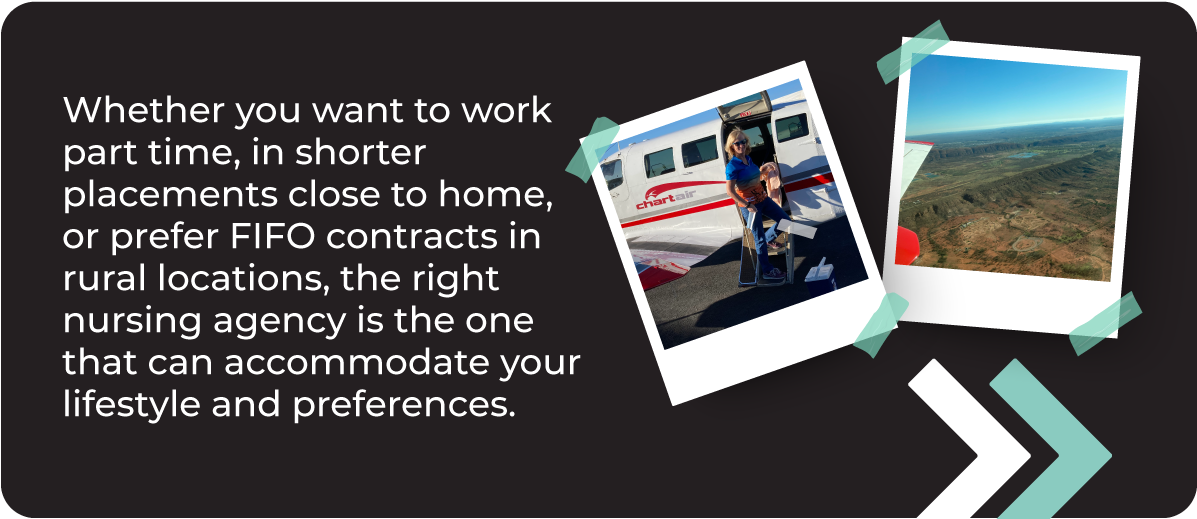 Many Australian nursing agencies fill contract roles in a variety of healthcare institutions across the country, so it's important to think about whether a given agency has strong relationships with employers in the location(s) you want to work. At the same time, you also want to look for an agency that offers the right types of shifts for you. Whether you want to work part time, in shorter placements close to home, or prefer FIFO contracts in rural locations, the right nursing agency is the one that can accommodate your lifestyle and preferences.
What rates do they pay?
Agency nurses often need to take shifts at the last minute, keep their schedules flexible and hit the ground running in new environments, so it stands to reason that they are well compensated. The exact pay rate depends on the agency they work for and varies depending on the region in Australia. However, keep in mind that the highest paying nursing agency isn't necessarily the best one – it's essential to take a holistic view of the agency and look at whether they offer the support and benefits you need as well.
What kind of support do they give contract nurses?
The best nursing agencies to work for provide comprehensive support to their contract nurses, from helping them to set up in a new location or just being there to offer advice on their next career move. Specialist nursing agencies that offer opportunities for career progression, are on hand to answer your questions, and can advise on the state of the market, stand out from the rest, and will be invaluable resources throughout your time as a contract nurse.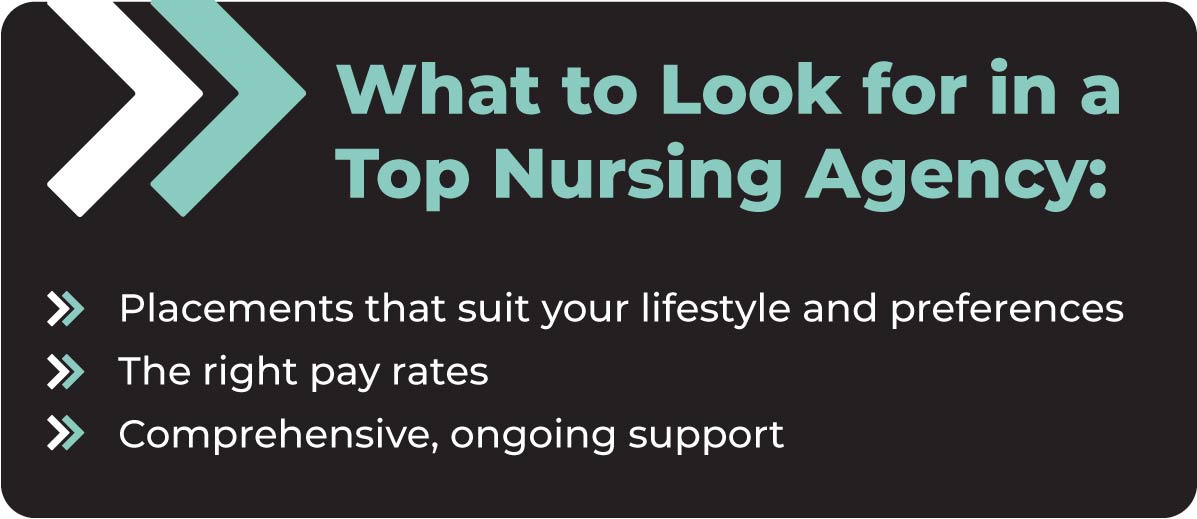 How to Select the Best Agency for Nurses
When it comes to picking the best agency for nurses, there's no one-size-fits-all answer. Your ideal agency depends on what you want and need out of your contract experience, and your decision should be based on what's most important to you.
Steps for choosing the best nursing agency:
Do your research – Find out as much as possible about the agencies you're considering. Their website and social media pages are great places to start (or, even better, pick up the phone and have a conversation with one of the consultants).
Know what matters to you – Identify which aspects of contract nursing you value most, and look for an agency that aligns with your goals and career aspirations.
Seek out references – The best place to learn about a nursing agency is from the experiences of people who have worked with them in the past. Ideally, ask for recommendations from fellow nurses, and don't forget to look at the agency's online reviews if they're available.
Trust your gut – When making your final choice, identify which agency not only ticks most of your boxes but also that you connected with most. At the end of the day, you will get much more out of the relationship if you feel you can trust them with your career and hold similar values.
Are We the Right Nursing Agency for You?
If you've narrowed down your search and would like to find out more about the healthcare recruitment services we offer at Evolve Talent, reach out to our team today. As one of the top nursing agencies in Australia, with offices and networks all over the country, we work alongside you to match you with opportunities that align with your career goals. We're here to support you every step of the way and help you get the most out of your agency nursing journey – wherever it takes you.
Explore our job board for the latest opportunities we have available and submit your CV to get started today.