Working in the mines has a lot going for it, from strong earning potential to plenty of opportunities for professional development. With many of the large-scale operations based in remote areas of Australia, Fly-In-Fly-Out (FIFO) work is common in roles related to the mining industry. These arrangements allow people to balance their personal and onsite responsibilities without needing to relocate full time.
If you're considering a career in the mines, here is some of the basic information you should know about FIFO mining jobs, as well as our tips for how to get started.
What to Expect from FIFO Work
The FIFO lifestyle can be extremely lucrative and rewarding, but it isn't for everyone, so it's important to know what to expect when assessing your options.
Fly-In-Fly-Out workers tend to get paid very high wages, with more experienced roles earning well into six figures and even entry-level roles receiving salaries that are significantly above average in comparison to other industries.
The typical arrangement for experienced FIFO workers is that they work for a certain period and then fly (or in some cases, bus) back home for a break. This is especially common in places like Western Australia where a lot of the mine sites are very remote.

Shift rosters can vary but usually operate on an "even time" cycle (for example: six days on, six days off, or at the longer end, three weeks on, three weeks off). Shifts generally rotate between day and night shifts, with each one being around 12 hours long, including rest and meal breaks.
Transport and accommodation may be included for more senior roles (though sometimes not for entry-level roles), and some sites may offer extra facilities such as a pool, gym or even a media room. Your meals, laundry and other living costs are often taken care of while you're on site (but we recommend speaking to your recruiter to find out exactly what is provided for the position you're interested in).
Requirements of a FIFO Mining Job
So, what does it take to land a job in the mines? The requirements of a FIFO mining job vary depending on the specific site and role in question. However, there are some generic requirements that will serve you well, whatever job you're pursuing:
Sufficient physical fitness for the role – Many positions in the mines can be physically demanding, so it's important that your health and fitness levels are up to scratch
A Pre-Employment Medical – This will determine that you are in physical condition to perform the duties of your job
Security clearances – Security measures and clearances depend on the location of the site and what is being mined, but most sites in Australia require applicants to have a National Police Certificate (NPC) at a minimum
A "work hard, play hard" attitude – With mining-related roles often involving long hours, people who can put in the work but also make the most of time off will do best in this environment
In addition, you will also need to complete generic and/or site-specific inductions and have the ability to pass a Drug & Alcohol Screen.
Common Mining & Energy Jobs
Many people don't realise that a wide range of jobs are necessary on a mine site, some of which are more generic in nature and don't involve working in the mine itself. This means there are opportunities for people with a variety of skill sets available.
Common energy and mining jobs (including FIFO jobs) are:
Construction Engineering (SMP/Civil)
Construction Supervisors
Construction Trades
E&I Techs
Electrical Engineering
Mine Managers
Mine Surveyors
Mining Engineers
Plant Operators (Fixed/Mobile)
Project Managers
Project Planning
Project Support
Underground/Quarry Managers
FIFO Admins
FIFO Bus Drivers
FIFO Chefs
FIFO Maintenance Trades
FIFO Security Guards
FIFO Utilities
How to Get a Job in the Mines
When it comes to how to get a job in the mines, there are several key steps you can take to increase your chances of landing a FIFO role.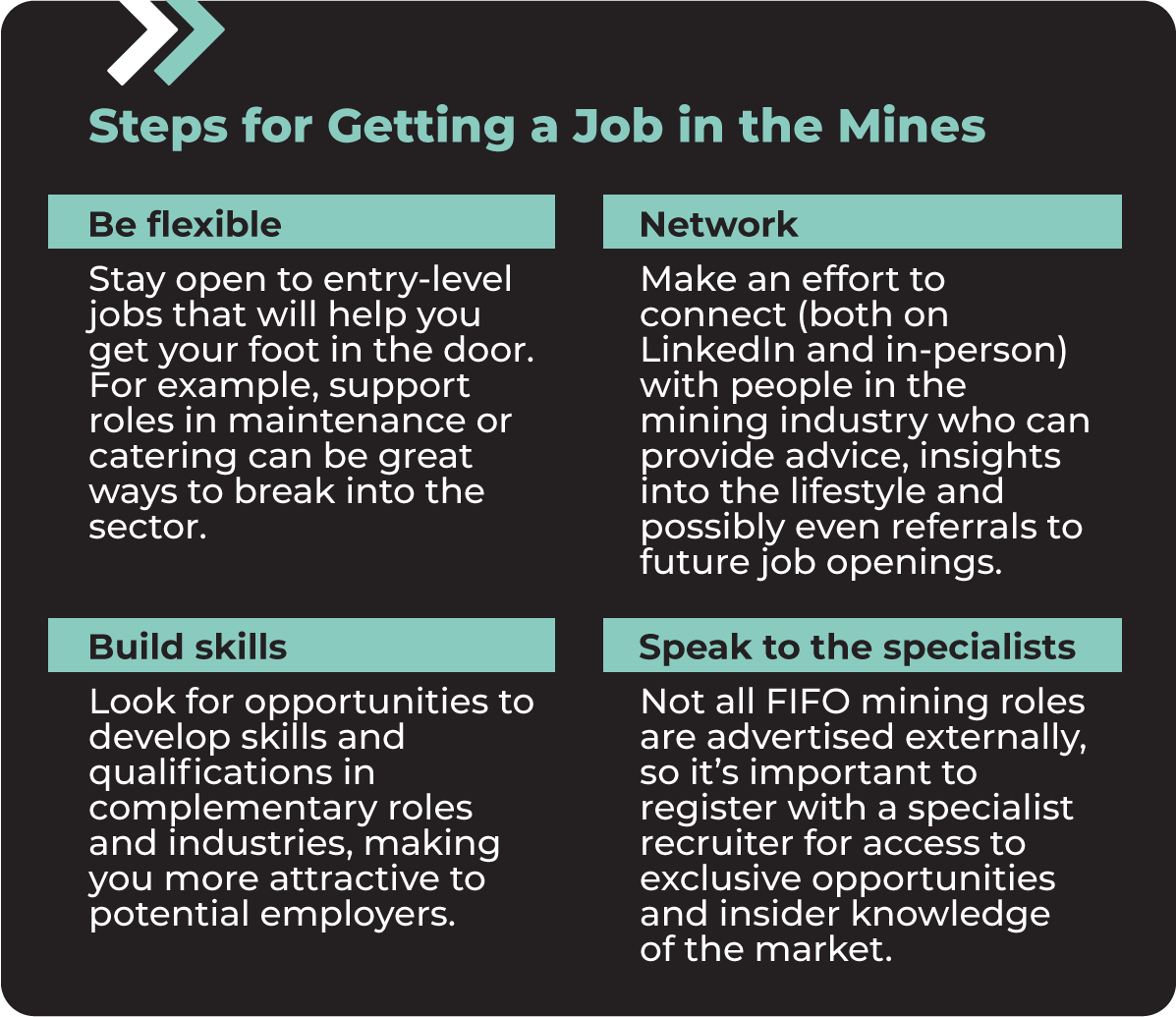 Get Specialist Resources & Mining Recruitment Support
If you've decided that a FIFO mining job is right for you, you'll want to partner with a Resources & Mining recruitment agency that can help you each step of the way. With offices throughout Australia, Evolve Talent has spent decades honing our skills and building connections with the most reputable mining employers in Western Australia, New South Wales, Queensland, Victoria, South Australia and beyond.
From Mine Surveyors and Engineers to Chefs, Trades and Bus Drivers, you can be assured that our specialist Resources & Mining recruiters have the expertise to help you secure the right FIFO role for you. Speak to our team today to get started on your FIFO journey.