As we hurtle towards another year, many of us start thinking about where we are in the grand scheme of things, both personally and professionally. A new year brings a host of possibilities and renewed opportunities to achieve your goals, whether you are seeking a promotion, considering a career change or on the hunt for your dream job.
Whatever your aspirations are for 2021, taking the time to invest in your career is one of the best things you can do for your professional future. By using the next few weeks wisely, you can finish 2020 feeling focused, clear and ready to get a jump-start on the New Year (and if you're planning a job search, this is an especially good time to get your ducks in a row).
In keeping with our recent rebrand, we thought it would be a good opportunity to share our advice for undergoing a refresh of your own and transforming your career in 2021. Here are four things you can do now to pave the way for your most successful career year yet.
1. Reflect
Take some time to look back at 2020 and take stock of the year's ups and downs. Think about what you have been most proud of professionally, as well as what you wish you'd handled differently.
As you complete your end-of-year "debrief", ask yourself:
How would I summarise the year?
Did I accomplish my career goals? If not, why?
What were my biggest achievements this year?
What challenges and failures did I encounter, and what did I learn from them?
Did I gain any new skills or experience, or take on any special projects?
What did I enjoy most and least about my role this year?
What would a successful 2021 look like to me?
These questions will help you identify the things you need to work on and what you need to keep doing in order to reach your goals.
2. Revamp
Regardless of if you are looking for a new job at present, regularly revamping your CV is always a beneficial exercise. Keeping it fresh and up-to-date is the best way to view your professional journey in black and white and avoid missing any important information, while also ensuring the document is always ready to go when you need it.
Take the opportunity to update your information while the year's projects, advancements and professional development are fresh in your mind. Don't forget to add in the achievements you identified during your year-end debrief – employers love to see accomplishments in your work history rather than just a list of responsibilities.
While you're at it, it never hurts to revisit your interview skills, particularly if it's been a while since your last formal interview. If you're working with a specialist recruitment consultant in your industry, they can provide practical feedback on your CV and interview skills, giving you that extra edge when it comes to searching for your next role.
3. Reconnect
As one of your most valuable career-building tools, your network should be a key focus of your career refresh. Good relationships take work and investing regularly in your connections is likely to pay dividends for your career in the long term. Make an effort to reconnect with people in your network, whether it is to send a quick message with holiday greetings via LinkedIn or schedule a coffee date for the New Year.
Additionally, while 2020 might have fewer opportunities to go to in-person events and Christmas parties than usual, it's still important to make the most of any holiday gatherings you do attend to mingle, meet new people and get your name out there in your industry. You never know when you might meet your next mentor, client or future employer!
4. Refocus
To get where you want to go in 2021, you'll need to refocus your efforts and clearly map out what you want the next 12 months to look like. Perhaps you're ready to make the jump into management or are looking to transition into a different industry. Whatever it is, determine the steps you need to take and create short- and long-term goals to take your career to the next level.
When setting goals, it's important to ensure they are measurable and realistic enough to keep you accountable and help you stay on track throughout the year. We suggest putting them somewhere visible so that you can refer back to them and use them to motivate yourself when you need it.
SMART goals are: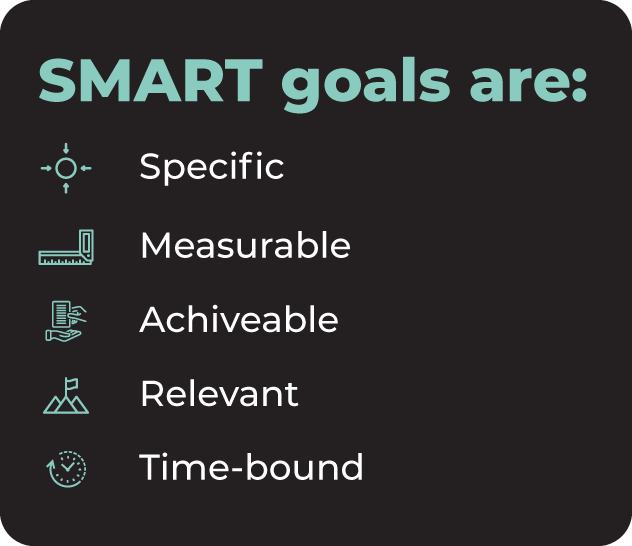 Closing Thoughts
Hitting refresh at the end of the year isn't always easy, but it's the best way to close out 2020 feeling rejuvenated and ready for all that 2021 will bring.
If you're looking to make a change in the New Year, the team at Evolve Talent is here to help. As a specialist recruitment agency operating within the Healthcare, CP&E, Resources and Technology sectors, we are focused on delivering flexible, personalised recruitment solutions that are relevant to the ever-changing environment we live in – a commitment that is exemplified in our new brand identity.
With a network of offices across Australia including Sydney, Brisbane, Melbourne, Adelaide and Perth, our extensive national presence and local lens mean we're well-equipped to assist candidates in building extraordinary careers.
Reach out to us today to find out how we can help you make your career goals a reality in 2021.